The perfect balance between energy and cost efficiency, down to the last detail.
Expectations for modern, PVC, aluminum, or aluminum-wood windows are higher than ever nowadays: They must conserve energy, create a pleasant environment within the home, and keep the noise of the streets faraway. Additionally, they need to offer as high a degree of security as possible, while also having an appealing design, and maintain their value and functionality for decades to come. Softline 76, the new, class A generation of VEKA profiles manages to satisfy all those requirements.

The profile system allows for a seamless installation of glass with widths of up to 48 mm. Therefore, in addition to being compatible with modern, triple insulated windows with a normal degree of protection, they are also compatible with windows with special proprieties, such as greater sound insulation and burglary protection. With the help of this slim and yet economical system, we can even manufacture glazed surfaces of large dimensions.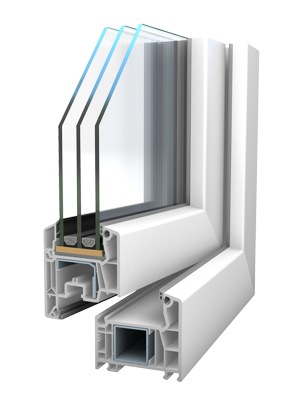 The profile system
76 mm width, with multiple isolation chambers
Efficiency in household heating or cooling costs as well as energy efficiency
Superior comfort because of the excellent degree of thermal and sound insulation
A high degree of impermeability in the case of heavy rainfall
Burglary protection in accordance with DIN EN 1627 up to class RC 2, depending on the hardware used
Ideal for both new constructions, as well as renovating old ones
VEKA quality
The VEKA profiles, produced in Germany, have a wall width in accordance with DIN EN 12608 - Class A
Strengthened outer and important-area walls
Additional stability through reinforcement with galvanized steel for excellent durability and greater safety over time
Exceptional thermal transfer coefficients to ensure efficient thermal insulation, even for very large glazed surfaces which allow for a greater intake of natural sunlight on the interior
Energetic efficiency
Excellent thermal insulation, in accordance with current regulations, which guarantee energy and heating costs savings, as well as the safety and durability of your investment.
Insulation values of the profile system: up to Uf = 1,1 W/(m2K)
Insulation values of the entire window: up to Uw = 0,75 W/(m2K) [cu Uf = 1,1 W/(m2K), Ug = 0,4 W/(m2K), Ug = 0,035 W/(mK)]
Sealing system
The three sealing levels keep out noise, cold, moisture and air currents.
Sealing all around the frame
Window sealing optimally positioned for an appealing appearance with as large a glazed surface as possible
Quality gaskets available in gray, caramel or black
The window glass space
A glass space height of 28 mm for optimal profile temperature and to avoid the formation of condensation
Multiple glazing options, with the possibility of using glass widths between 24-48 mm, allowing for custom glazing to suit the specific needs of each project
Design and Durability
Numerous design options with over 50 colors, decorative elements, and aluminum plating, as well as the new VEKA SPECTRAL finish
Ecological due to the streamlined manufacturing process with few wasted resources
The SOFTLINE 76 profiles are 100% recyclable
The VEKA SPECTRAL windows stand for quality and innovation
The design of the VEKA spectral windows represents a special experience and instantly engages the senses with its beauty and elegance.
VEKA SPECTRAL paves a new aesthetic dimension through:
Delicate and refined varnishing of the surfaces
Incomparable aesthetics, which amaze through unmatched color brilliance
The VEKA standard of quality is unparalleled by the complexity of the manufacturing technology, which defines VEKA products
Unique, superior resistance to scratches or natural external factors
A special product, intended exclusively for VEKA partners
The profiles' appeal is immediate, both on sight, through its remarkable color, as well as at the touch, through its delicate surface
Its surfaces are treated with special varnishing products to grant it increased resistance to scratches, abrasions and aggressive substances from the surrounding environment.
The stability of the profiles is given by the minimal heat absorption.
Whatever the temperature or humidity level may be, the profiles will maintain their high resistance.
All processed surfaces are tested in accordance with RAL procedures.
We are always a trustworthy partner, and we offer a 10-year warranty when it comes to weather resistance.